Corner Bakery Menu
Corner Bakery Cafe recently opened its doors in Stone Oak / North San Antonio and we were super excited to get in & try it out. Once we saw the sign go up a few months ago we did a little research online and knew we were going to love this place!
They have an extensive menu of fresh made Breakfast items, Salads, Sandwiches, Soups, Pastas & Baked Goods!When we arrived for lunch on our first visit, Corner Bakery Cafe was packed…every seat in the house taken! Apparently, everyone else in the area was excited about this place opening as well!
As we waited in line, we were able to peruse the menu board and even though we had gotten a good idea of what was offered from their website…with all of the choices now in front of us & the delicious aromas that were filling the air, the decision was tough! As the folks in front of us finished their order, we had made up our minds & were ready to make ours…we had decided on a few items…a California Grille Panini on Harvest Bread with Grilled zucchini, artichoke hearts, roasted tomatoes, pesto, with fresh spinach & provolone…a Mom's Roasted Chicken on Harvest Bread with leaf lettuce, plum tomatoes & country Dijon mustard…and some Roasted Tomato Basil Soup!
Corner Bakery Menu
Corner Bakery Menu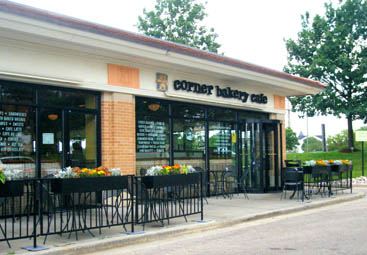 Corner Bakery Menu
Corner Bakery Menu
Corner Bakery Menu
Corner Bakery Menu
Corner Bakery Menu
Corner Bakery Menu
Corner Bakery Menu
Corner Bakery Menu
Corner Bakery Menu
Corner Bakery Menu
Corner Bakery Menu